CNN ran a report verifying that the U.S. government wiretapped former Trump campaign manager Paul Manafort:
http://www.cnn.com/2017/09/18/politics/paul-manafort-government-wiretapped-fisa-russians/index.html
CNN, of course, claims there is still no evidence that Trump's claim about wiretapping was accurate.  Good luck with that.
Manafort's lawyers have already struck back:
http://dailycaller.com/2017/09/19/manafort-calls-on-doj-to-release-his-intercepted-communications-with-foreigners/
His attorneys asked the DOJ to investigate the leak of details of secret surveillance which is a serious crime.  Then they requested the DOJ to "release any intercepts involving him and any non-Americans so interested parties can come to the same conclusion as the DOJ – there is nothing there."
The Federalist asked some interesting questions about this FISA warrant:
https://thefederalist.com/2017/04/20/did-the-fbi-use-garbage-opposition-research-to-spy-on-an-american/
Even CBS noticed that something was very wrong about the Donald Trump Jr. meeting with that female Russian Lawyer.   Like how exactly did she get into the United States?
https://www.cbsnews.com/news/did-the-obama-doj-let-russian-lawyer-natalia-veselnitskaya-into-the-u-s/
Did Loretta Lynch personally intervene in this case?  This female attorney was close to people in the Clinton campaign.  Eight days later she was photographed sitting next to Michael McFaul, Obama's ambassador to Russia, during a Foreign Affairs Committee hearing. Why on earth was she there?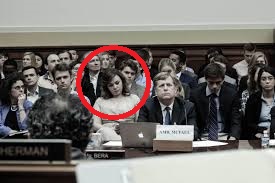 Michael McFaul famously predicted on October 25, 2016 that Hillary would win.
http://thehill.com/policy/defense/302800-former-us-ambassador-russians-now-assess-clinton-will-likely-win
"I think they have — you know, are resigned to the fact that they are going to have to start dealing with President-elect Clinton," said McFaul, who served as ambassador from 2012 to 2014. 
McFaul said he is basing his belief off of "anecdotal" evidence, namely conversations that he's had, including "both with Russian officials and other intermediaries."
McFaul was planning to travel to Russia to do Hillary Clinton transition work. He was part of the Advisory Working Group: Europe and Russia. On November 11, 2016, three days after the election, Russia banned him from entering.
http://www.bbc.com/news/world-us-canada-37957097
One could say this case is down to the wire and we could be looking at a photo finish.
TDM